3D-Visualization is completely integrated into the ImageNet Designer. Every Block's output can be inspected with a double click on its preview image. The default view is 2D, but you can always switch to 3D on registers on the left side. Obviously, it makes no sense to inspect a 2D-Point in 3D but there are a lot of data types which can be displayed in 3D. Take a look at the table: ImageNets_Wiki#Datatypes to find out which data types can be displayed in 2D and 3D.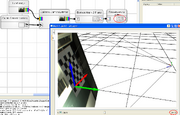 See also ImageNet_Designer_-_Graphical_Programming_Tutorial#Advanced_Graphical_Tutorials_.283D.29
Ad blocker interference detected!
Wikia is a free-to-use site that makes money from advertising. We have a modified experience for viewers using ad blockers

Wikia is not accessible if you've made further modifications. Remove the custom ad blocker rule(s) and the page will load as expected.