This block can load an ImageNet and builds its ports from the ImageNet's PortIn and PortOut blocks. Make sure that the Input and Output IDs in the loaded ImageNet are unique.

The Embedding Plugin combines three powerful concepts
"Load Image": simulation of an ImageNet
"PortIn and PortOut": reusing of an ImageNet inside an Imagenet (Information Hiding, DRY - Don't repeat yourself)
"VariableIn and VariableOut": loading and executing an ImageNet from code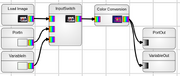 Ad blocker interference detected!
Wikia is a free-to-use site that makes money from advertising. We have a modified experience for viewers using ad blockers

Wikia is not accessible if you've made further modifications. Remove the custom ad blocker rule(s) and the page will load as expected.