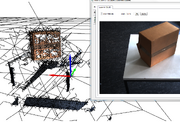 Point Clouds in ImageNets are stored in Octrees. Octrees have the advantage over lists that search is very fast.
How to use an Octree
Edit
Initialization
Edit

CImage::CLayer::COctree* pOctree = new CImage::CLayer::COctree();
pOctree->setMinRadius( 0.01 );
pOctree->setMaxRadius( 8.0 );

Add a colored 3D point
Edit

pOctree->addPoint( QColor( r, g, b ).rgb(), x, y, z );

Save the Octree in port 0
Edit

setOctree( pOctree, 0, 0 );

Search in the Octree
Edit
You have to write a recursive function, e.g.

void recursiveFunction(COctLeaf* pParent, float parentX, float ParentY, float parentZ, float parentRadius)

CImage::CLayer::COctree::COctBranch* pBranch = dynamic_cast<
	CImage::CLayer::COctree::COctBranch*>( pParent );

if( pBranch == 0 ) //This is a leaf
{
	//You reached a leaf of the tree, do something with it
	//You reached a leaf of the tree, do something with it
	//You reached a leaf of the tree, do something with it
	
	return;
}
else  //This is a branch --> search deeper
{
	//Do something here with the branch
	//Do something here with the branch
	//Do something here with the branch


	//Next: go deeper into the tree!

	double childRadius = parentRadius / 2;
	
	//Call recursively for all 8 children
	if( pBranch->pChildren[0] != 0 )
	{
		//Recursive call
		recursiveFunction( pBranch->pChildren[0],
			parentX + childRadius, parentY + childRadius,
			parentZ + childRadius, childRadius );
	}
	if( pBranch->pChildren[1] != 0 )
	{
		//Recursive call
		recursiveFunction( pBranch->pChildren[1],
			parentX + childRadius, parentY + childRadius,
			parentZ - childRadius, childRadius );
	}
	if( pBranch->pChildren[2] != 0 )
	{
		//Recursive call
		recursiveFunction( pBranch->pChildren[2],
			parentX + childRadius, parentY - childRadius,
			parentZ + childRadius, childRadius );
	}
	if( pBranch->pChildren[3] != 0 )
	{
		//Recursive call
		recursiveFunction( pBranch->pChildren[3],
			parentX + childRadius, parentY - childRadius,
			parentZ - childRadius, childRadius );
	}
	if( pBranch->pChildren[4] != 0 )
	{
		//Recursive call
		recursiveFunction( pBranch->pChildren[4],
			parentX - childRadius, parentY + childRadius,
			parentZ + childRadius, childRadius );
	}
	if( pBranch->pChildren[5] != 0 )
	{
		//Recursive call
		recursiveFunction( pBranch->pChildren[5],
			parentX - childRadius, parentY + childRadius,
			parentZ - childRadius, childRadius );
	}
	if( pBranch->pChildren[6] != 0 )
	{
		//Recursive call
		recursiveFunction( pBranch->pChildren[6],
			parentX - childRadius, parentY - childRadius,
			parentZ + childRadius, childRadius );
	}
	if( pBranch->pChildren[7] != 0 )
	{
		//Recursive call
		recursiveFunction( pBranch->pChildren[7],
			parentX - childRadius, parentY - childRadius,
			parentZ - childRadius, childRadius );
	}
}